After more than two years of the epidemic in the United States, the savage e-commerce industry has gradually returned to normal levels. U.S. retail giants including Amazon and Walmart are bracing for slower online shopping growth and heightened price competition in 2023.
In the past year, Amazon has offset the impact of weak e-commerce demand by continuously cutting logistics and transportation expenses. Meanwhile, Target and Walmart are also considering shifting more of their focus to brick-and-mortar stores, retail experts say.
YCD learned that according to the statistics of the U.S. Census Bureau in the second quarter of 2020, the proportion of online retail sales in the total U.S. retail sales soared to more than 16%, but it has gradually declined by about 14.5% since then.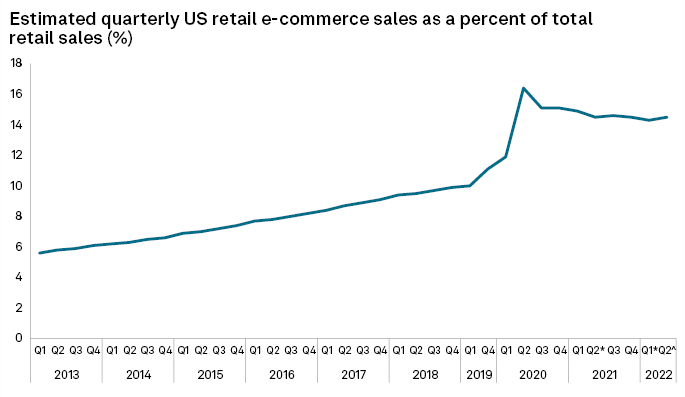 Econoday economist Shine said holiday shopping could boost e-commerce sales for a while, only to slow them down next year.
"I think it's entirely possible that online sales will reach 15% of total U.S. retail sales in the fourth quarter of 2022, but that number will decline again in the first quarter of next year," Sheehan said.
In addition, high inflation will also weaken sellers' ability to raise prices, and there may be more low prices and promotions in the fourth quarter of this year and even in 2023.
"It will become increasingly difficult for sellers to raise prices in the future because consumers are becoming more cautious and competition among sellers will become more intense," said Arun Sundaram, senior equity analyst at CFRA.
According to 451 Research's "Voice of the Customer: Holiday Spending Outlook 2022," 40 percent of respondents said they will spend roughly the same amount online this holiday season compared to a year ago, with 17 percent Respondents said that they will spend slightly more online this year than last year, and 14% of respondents said that they will significantly increase their shopping budget this year.
Respondents who planned to spend less said inflation was the most important reason for their decline in holiday spending.
Amazon warned on Oct. 28 that its holiday sales could be weak in the fourth quarter due to high inflation and subdued consumer confidence. Walmart and Target are also expected to warn of weak holiday demand.
Walmart and Target are expected to invest more in physical store remodels and run more promotions to entice shoppers while maintaining their e-commerce presence, retail experts said.
In fact, Wal-Mart's supply chain system is more mature than Amazon's, and Wal-Mart is expected to continue investing in its automation-related technologies. Target, the smallest of the three companies, will likely continue to focus on its DriveUp service, in-store pickup and delivery.