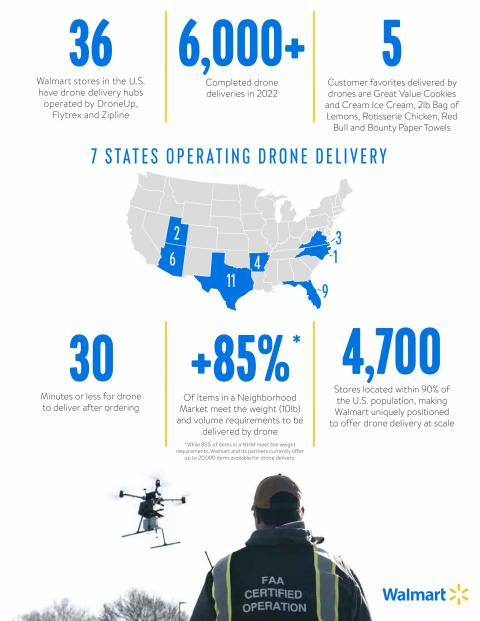 YCD News—Walmart already made strides in its drone delivery expansion plan as we headed into the holidays, but the company isn't done yet. The brand recently highlighted the success of its program, which launched in 2021, showing quick growth is part of Walmart's end goal. 
According to Walmart, so far, 36 stores across the country already have drone delivery hubs operated by partners Flytrex, Zipline, and DroneUp. And the company completed over 6,000 deliveries via drone in 2022 alone, taking 30 minutes or less to complete fulfillment after the order is placed.
Only seven states are currently operating drone delivery, these include Florida, Texas, Arkansas, Arizona, Utah, North Carolina, and Virginia.
This leaves several markets open for expansion, and Walmart highlighted the potential by stating that 4,700 of its stores are located within 90% of the U.S. population, making this effort incredibly scalable, especially as more than 85% of products in a neighborhood market meet the weight (10 pounds) and volume requirements for drone delivery.
So what products are Walmart customers routinely relying on for drone delivery? According to the company, favorites include Great Value cookies and cream ice cream, a 2lb bag of lemons, rotisserie chicken, red bull, and bounty paper towels.
In markets where Walmart offers drone delivery, customers who reside within a mile of a participating store can place orders through www.droneupdelivery.com between 8:00 a.m. – 8:00 p.m. More than 10,000 Walmart items that weigh up to 10 pounds are eligible. While there are no order minimums, customers incur a delivery fee of $3.99.
Once packaged and loaded into the drone, items are then delivered using a cable that gently lowers the package into the customer's yard. DroneUp drones are navigated by a team of FAA certified pilots.
"Drone delivery makes it possible for our customers to shop those last-minute or forgotten items with ease, in a package that's frankly really cool," said Vik Gopalakrishnan, vice president, innovation and automation, Walmart U.S., earlier this year. "Being on the forefront of that innovation at Walmart is something we're proud of. It may seem like a futuristic option, but it's giving our customers what they've always wanted, and that's time back to focus on what is most important to them."